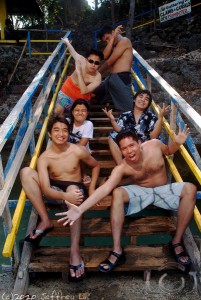 We're currently in Alaminos, the first stop in our trip. The bus ride (P352 incl. insurance) was shorter than expected. We left the Cubao terminal of Victory Liner at 9:00PM. By 1:30AM, we were already at the Alaminos terminal. I'm not sure if it was because it was the middle of the night, or if we heard incorrectly, but the tricycle drivers initially asked for P100 head! We got it down to P80/tricycle. There were six of us so we had to take 2 tricycles. It should've been just a 10 minute ride to Lucap, but we couldn't find the Kylah Transient Inn. Someone was actually waiting, and flagged down our tricycles, but he said "MK", the former name of KTI so we went past. A few more minutes riding in the biting cold morning and we met 2 guys on a motorcycle who offered to lead us to our place.
After having Alaminos longganisa (around P65 with rice) for breakfast at the market, the first island we went to was Governor's Island.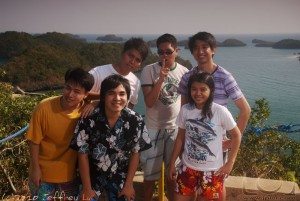 It was a very straightforward shot with two off-camera light sources. Since I was packing light, I had brought only an SB-600 flash. I used it bare at camera right to balance the light so that our faces wouldn't underexpose. The second light was the sun which served as a nice kicker light. You can see the lightstand and flash in this setup shot. I upped the ambient in the final shot by adjusting my shutter speed since I felt it was a tad too dark (very moody, but didn't fit the happy 100 islands mood).
EDIT: I forgot to mention that I used a Cokin P-Series Gradual filter to handle the bright sky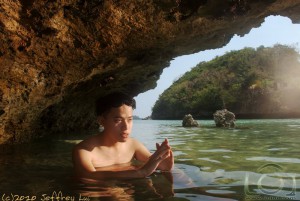 Right now, I'm packing my stuff (very densely) while three of the guys are playing Monster Hunter Freedom Unite on the PSP. We had just spent the whole morning till about 3 o' clock hopping from one island to another. We were able to get some pretty nifty photos, especially while we were playing around at Children's Island. Here are some of the photos, most especially Kenny's, whose pictures we all agreed seem to always looked great. After getting back to the inn, some of us headed for the shower while some of us bought halo-halo (P15) while waiting for our turn. After that, most of us slept, dead tired.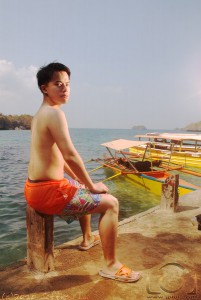 Dinner a while ago was fantastic. We ate at Maxine By The Sea. We wanted to try out their famous calamares. Maxine's is probably the priciest place in the area, but the food was supposedly good. True enough, it was fantastic! We had the Maxine Special Calamares (P195), Bangus Bellies Sinigang (P220), Sizzling Gambas, and Tanguige Kelawin plus 8 cups of rice. All in all, it set us back only P1,287 (service charge included), but it's a feast for six people.
Tomorrow, we're off to see the Agoo Basilica so we're getting up very early to catch the 6:00am bus to Dagupan where we'll transfer to another bus to Agoo. And then it's off to Vigan.
Stay tuned, more adventures up ahead.