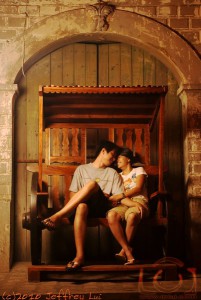 Right now, we're having lunch (some of us, me included, halo-halo) at Mang's again. A while ago, we were at Baluarte. We had empanada again, and I had papaitan as well. Ever since we got to Vigan, the second destination of our trip, we have been almost nothing but eating. Then we'd take a break and see some sights, then we'll eat again. Such a yummy place.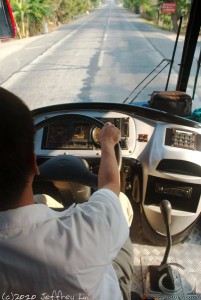 We woke up really early yesterday at about 4 in the morning; our tricycle drivers were gonna pick us up from Kylah Transient House at 5:30 so we could get on the 6 o' clock Victory Liner bus to Dagupan (P61). While we were waiting for the tricycles, a bread man went by and we called him. He sold pan de sal, the nostalgic kind where you can still taste its freshly baked goodness. We arrived at Dagupan after about an hour and a half where we stayed for a few minutes so that Rhoy could recover from motion sickness. From Dagupan, we changed buses to go to Agoo (P47) which took us another hour. The Agoo basilica was just about a block away from where we got off.
From there, we waved down a bus that was going to Vigan. The bus was terribly slow, with frequent stops waiting for passengers. I estimate that the trip from Agoo to Vigan is around 4-6 hrs. It took us 7.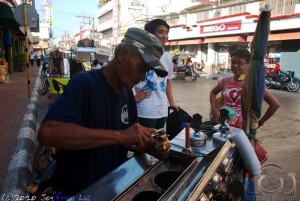 Immediately after getting off the bus in Vigan, we spotted an old sorbetero and quickly got us some ice cream to cool us off from the long, hot, tiring bus ride. A short tricycle ride later, we were at Grandpa's Inn and shortly after that, not having eaten lunch, we started wandering around the area like zombies looking for brains while Rhoy and Joie were taking a bath (not at the same time). We found a nice little shop called Mang's nearby.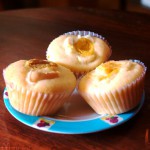 First, it was cup cakes. It was probably baked in the morning, but it was incredibly soft and fluffy. And the salted egg on top lightly contrasted with the sweet cup cake. Only P10!
At the same shop, we also had halo-halo. It tasted good enough, and for only P15, it was fantastic!
After finishing off our glasses of halo-halo, we stepped outside and were delighted to find a fishball vendor. Although it's the same fish balls whether here or in Manila, there's something about fish ball sold at the street side.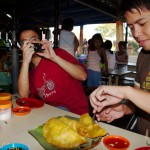 We paused for a bit and walked around the block while Rommel had some business to take care of at the hotel. When we regrouped, we tnen headed to the plaza and to The Empanadaan, a small place at one corner of the plaza where famous Vigan empanada (P30) are made and served.
By now, we should have been quite full. After strolling through the plaza, playing at the swings, monkey bars, and see-saw, we then went back and again stopped by the little shop where we had our halo-halo earlier. They were now grilling some barbecue! Rommel had two longganisa BBQs and I had one longganisa BBQ (P10) and another regular BBQ (P12).
We went back to Grandpa's and showered and rested for around 2 hours. Dinner time, we found Cafe Leona near the plaza, and we had another feast! Fried Calamares, Boy Sisig, morcon, Fish Florentine, Garlic Chicken Tips, and garlic rice, with a grand total of only P1225.
This morning, we had breakfast at Cafe Uno here in Vigan. The food tastes great; breakfast meals are all priced at P95 and servedwith garlic fried rice, egg, and your choice of coffee or tea. Their longganiza is very good, as well as the Damortis bangus.
This place is an absolute food trip!