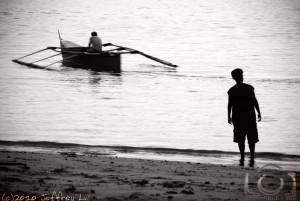 So it's been two weeks since we came back from our trip, and this post on the last leg of our Northern Exposure trip has just now been written and posted. Man, it's really different when you're out there, without a care in the world blogging at night as you wind down your day of swimming, travelling, taking pictures, and having fun, and the only reason you need to get up early is because you want to catch the sunrise or you have a bus trip to the next exciting destination!
Now who wouldn't want a life like that?!
(If you want that life, contact me and let's figure out how to get there)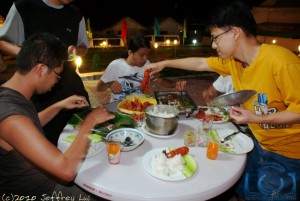 In my last post on the wonderful sights of Pagudpud, I took you around the beaches, waterfalls, and lighthouses we went to during the day. Our Laoag leg was set to be the climax of our trip; our stop in Laoag would be brief and we'd just be winding down. So after our day trip around the sights of Pagudpud, we went to the market to buy ourselves fresh seafood. This time, Kenny and I were careful not to expose ourselves to the vendors, lest they give us "tourist prices" because we looked like Asian foreigners. That night, we had a feast of 12 lobsters, flame-grilled fish (inihaw na isda), sinigang na tanguige that was fit for 8-10 people! And it only costs us PXXX! (Later that night, I would go on to blog my last post).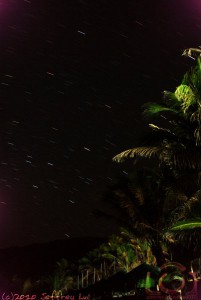 The next morning, we woke up early for the sunrise. I had set my alarm for 4:30am to give us ample time to catch it. I was supposed to wake Rommel up, so I got my flashlight and was flashing it like crazy on his face. At first I saw him smiling, then laughing, before I realized that I had mistaken the bunk assignments and woke up Kenny instead!
So we went down to the beach, and I took some pictures of the stars. Leon was quite surprised to learn how fast stars move (he corrected me, it's actually how fast the earth rotates). Here is a long-duration shot of around 8 minutes. Notice how long the streaks are? That's how far the stars have gone across the horizon.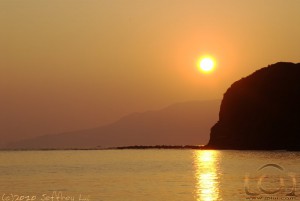 We waited several minutes more till sunrise. It was summer after all, and I was used to seeing the sun at around 5:30am whenever I'm out on vacation somewhere. It actually took us 2 hours since we woke up before we got first glimpse of the sun. And for waiting that long, we had a good 10-15 minute photo session with the sun before it got too high in the sky!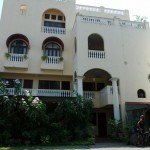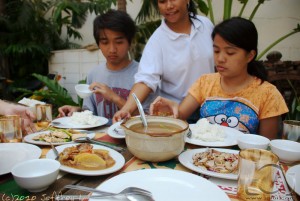 Down in Laoag, we got to Balay de Blas. It was a wonderful looking pension house with a beautiful facade and classy looking bedrooms. We had lunch al fresco in their garden with Insarabasab (sliced, roasted pork), bagnet. When we got back to our rooms, it was siesta time. The others were once again playing Monster Hunter, while I was channel surfing. Eventually I fell asleep dead-tired and had one of the most relaxing sleep I've ever had. When I woke up, I thought I had slept the whole afternoon away when it was really just an hour of sleep.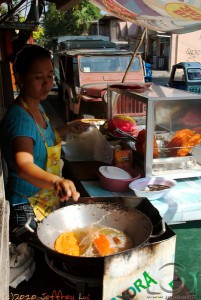 We started our mini-tour of Laoag, stepping out of Balay de Blas and peeking around streetcorners, when not a hundred meters from our place was a little shop selling, once again, empanda! Laoag empanada is said to be even more delicious than Vigan empanada. The empanada here is cooked a bit differently. They first cook a longganisa then scrape all its contents on to the bed of veggies in the empanada before the egg yolk is poured on and finally the empanada is wrapped and sealed.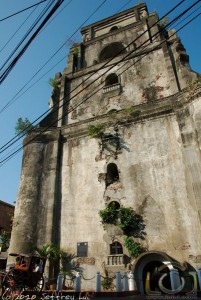 A short tricycle ride later and we were at the Laoag market. A few blocks away, the Sinking Belltower was already visible. Magnificent as it still looked, the builders of old forgot Jesus' teaching of building on stone instead of sand, and the entrance to the belltower, which once could accomodate a man on horseback, now required one to crouch to get in.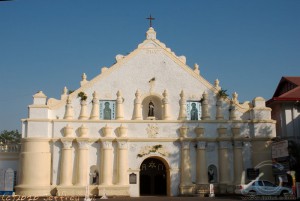 The St. Williams Cathedral was just a few steps away, and after checking the mass schedule we decided to attend the anticipated mass at 5pm. Since it was still a bit early, we decided to go the Ice Cream House first. Rommel, Kenny, and I orderd the Peach Boat while Rhoy and Joie had halo-halo.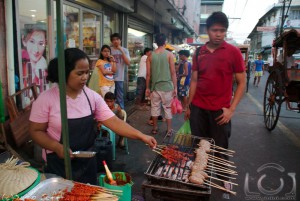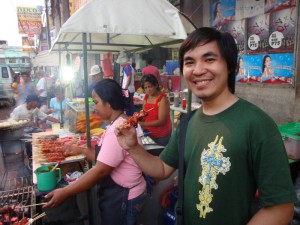 After the mass, we went back to the market to pick up some pasalubong and Rommel and I promptly found ourselves again near a barbeque vendor where I had some kwek kwek and barbecued pork skin. There were some calesas nearby, and the driver offered to take us all back to our hotel. We really felt sorry for the horse: technically the calesa could fit 7 people including the driver, but, PETA-forbid, don't! It's just too exhausting to the horse. For his efforts, we gave a little tip and goodbye to the horsie.
To be continued… (and now, the continuation)