I apologize for the incredibly long delay. But without further ado, the conclusion…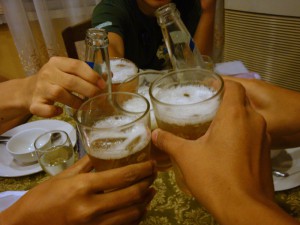 After our mini food-trip around Laoag, we were now back in Balay de Blas. Some of us chose to rest, while playing Monster Hunter, and some of us wanted to…uhm…relieve ourselves. I had gone first, and partly due to the poor ventilation of the CR, partly due to the intensity of my power, it took Rhoy, who was next in line, a few minutes before he could acquire an immunity to it. It was very unfortunate to Rommel, the third person in line though.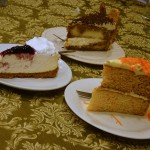 After our little rest, we went out to find a great place to cap off our whole trip. And we went to one of the best places there is in Laoag. We had sinanglao, some insrabasab, and a few more dishes that I can't now remember. For dessert, our resident cheesecake aficionado, Leon, decided he wanted to treat us all for cakes. He bought three kinds for us to share. The carrot cake was delicious. Sadly, it was the blueberry cheesecake that fell to last place. It's not that it wasn't good, but it was just mediocre.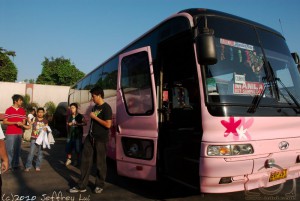 Early next morning, we had breakfast served in our room (you have to order it the day before). It was delicious, but not extraordinary. Most of us had the longganisa. After that, we went through our final packing. And I would arrange my backpack for the last time.
Since I had neglected to talk about what my "light pack" was, I will explain it now. I brought my Targus laptop backpack, and naturally my Kohjinsha SH6 tablet netbook fit in the over-spacious laptop compartment. I had maybe six shirts, a few shorts, jogging pants, and a few other articles of clothing rolled up to minimize the air inside the pack. A towel was wrapped and strapped outside and under my pack where a tent or sleeping bag was meant for. My brother's Manfrotto tripod, lightstand, and umbrella all fit in my Slik tripod bag, which I tied onto the front of my backpack. And my Lowepro Toploader 45AW housed my camera, flash, filters, flash gels, umbrella adapter, blower, flashlight, and harddisk and had bottle of water strapped onto it via my DIY velcro speedlight straps. So we checked out of Balay de Blas and got a tricycle to the Florida Bus Terminal, where our scheduled bus was waiting for us.
The previous day, we had a little bit of confusion as we got our bus tickets. After paying P550 for the 8:00 air-conditioned bus with CR, we were about to leave the bus terminal. It was a good thing Leon said "see you tomorrow" to the teller, because it was only then we all realized that we had booked for the 8:00 IN THE EVENING BUS on THAT DAY, instead of the 8:00 IN THE MORNING of THIS DAY. Any, she corrected the date and time of our tickets.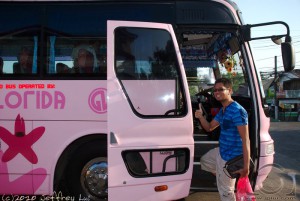 So now we were at the Florida Bus Terminal, and the bus we were (re)scheduled to ride on had no CR, and the ticket office was still closed. That just meant that we had paid P50 more for a bus without CR.
On the bus, still early that morning, we were subjected to a very gory movie called Masters of Horror: Imprint, which was about a man who was searching a mystical place in Japan filled with supernatural phenomena for a prostitute he fell in love with. Nice. Can't beat bloody fetuses for breakfast… Joie promptly asked the conductor to change the movie. After that, they showed Jackie Chan's Forbidden Kingdom, followed by Rush Hour 3! Cool, I wondered what was next…it was Vic Sotto and Dolphy…ok, I wonder what was up after this one….Fernando Poe Jr….damn.
There were a few stopovers on that Laoag to Manila ride, first stop was at Marsha's Delicacies where I bought some longganisa and cassava cake for my family. Some of us bought the vigan bibingka, which was received with mix criticisms. Our lunch stop was over at a small carinderia, and on the final stopover somewhere in Tarlac, we found the last halo-halo stand of our trip. A happy and sad moment.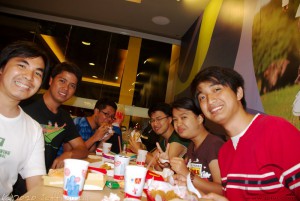 On entering Metro Manila, we had a quick meeting on the bus to decide where we'd be getting off. Some would be getting off sooner, while the others had to get off much further away. We decided since we were all hungry that we'd all stop at McDonald's at Quezon Avenue to recharge before going our separate ways. After struggling with our heavy bags, navigating the no-walk zones, the pedestrian lanes, and the foot bridges, we found us a nice long table where we could lay down our cargo and relax a bit with our civilized burgers, a far cry from the delicious meals we had in our travels, but it was nonetheless nice to be able to bite into a McDonald's McChicken again.
Trip Details:
7 Days – 1 day in Hundred Islands, 2 days in Vigan, 3 days in Pagudpud, and 1 day in Laoag.
Feb. 21 (night) – Depart from Manila
Feb. 22 – A day in Hundred Islands
Feb. 23 – Travel day to Vigan, nighttime relaxation
Feb. 24 – Vigan tour
Feb. 25 – Trip to Pagudpud
Feb. 26 – Pagudpud tour
Feb. 27 – Go to Laoag, take in the sights
Feb. 28 – Going home
Total budget per person inclusive of travel and lodging and BBQs and halo-halo and empanadas – roughly P8,000
Average number of halo-halo eaten: 6
Things Jeff dropped (but recovered): sunglasses in Dagupan, wallet in Vigan
Distance travelled: MNL-Alaminos (182km), Alaminos-Vigan (250km), Vigan-Pagudpud (208km), Pagudpud-Laoag-MNL (615km) = 1,255km total.