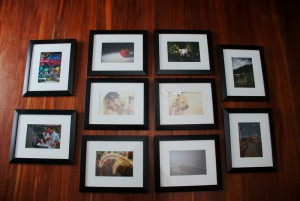 I've been shooting photos for a long time, all the way back to the film days. But until quite recently, I've never allowed my photos to be viewed the way they were meant to be: on printed paper and preferably framed. So this time, I was finally able to create something that I could give to some friends.
Read on to the section 'How Do I Get One?' to find out how you can get one of the remaining few framed photos.
Last Christmas, I chose to give something different for a change. So I searched around in my photo archives for a handful of my favorite photos. The problem with that is, sometimes I tend to like a photograph I took for a specific reason that can only be seen by me. While this would give you a great sense of fulfillment and accomplishment, you need to make sure your photographs can deliver your message to your audience, especially if you're doing this for a living. Either that, or you could go the "this is art; it is meant to be understood only by those with artistic sense!" route.
So after taking a step back and carefully choosing the photos, I also asked a couple of people (whom I wasn't going to give the pictures to) which of my selections they thought looked best. And I was quite happy with the ones they picked, so without further delay I went to have them matted and framed.
The problem was that it was the weekend before Christmas week, and the store told me that they'd already be closed the next following days and can't finish the order until January! Well, I had no choice, so I gave them the go-ahead. Temporarily, I printed out some cards which said:
Your present is taking an extra bit of attention. Wait for it as the New Year comes. Merry Christmas and a Happy New Year!
So that got me my way out, and maybe it was a good thing that I was able to give them after Christmas. That way, we were able to have an extra Christmas-y day in the middle of January.
How Do I Get One?
Here are the photos I framed for the first batch. I gave some of them away, and the rest is up for sale at P1,000 each. If you refer a friend with our New Year, New Portrait Family promo, you can get the framed prints at a discounted price of P750 each. And since you get at least P500 cash commission for referring a friend, it's like getting these at only P250! Click here to get in contact with me if you want one of them.